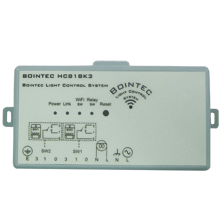 HC818K3
IoT light relay control box 3 way switch*2(plastic box)
►Accept traditional on/off switch while with remote control command.
►Use Wifi technology to accept wireless remote control lamp on/off
►Maxmum carrying watt to be 220W
►Minimum current watt could reach 1W
►Radio control distance 300m*
►Universal power input AC 90~240V
HC818K2 (to connect with 3-way switch * 2)
Bointec HC818K1/2/3 is a smart light controller to be installed between lamps and traditional on/off switch(es), in order to allow lamp to be controlled by WiFi radio.
Using by cutting edge Internet of Thing technologies, Bointec HC818K1/2/3 build-in WiFi radio TX/RX module and microprocessor. With the powerful hardware platform, HC818K1/2/3 could translate BLCP® (Bointec Light Control Protocol) command flow to instruct the connected lamp/bulb to perform on or off. With an Apple® or an Android® smart device by download Bointec netREMOCON® App, it allows you to control the lamp on/off status without walk close to the traditional ON/OFF switch that is on the wall. You can now turn on and off the lamp with a long distance, up to 300 meters away. Accordingly, you could know if the lamp is on or off without walk into the room by look at the lamp status on the smart device.
Imaging how simple 1-2-3 it is, just: 1. install HD818K1/2/3 by a technician to attach the lamp you like to control, 2. install netREMOCON® App in the smart device on your hand, and 3.run Instant Scan® from netREMOCON®. Then, you have finished the setup procedure and start to enjoy the convenience. Moreover, with multiple smart devices, you could have multiple control outlets at a same time. With all of them precisely show the lamp on/off status.
紅色的文字
Feature

Specification

Material

Material

Plastic

General

Operating Voltage

AC 90-240V

Power consumption

Less than 1.0W

Maximum carrying Wattage

220W

Minimum carrying Wattage

1W

MTBF

100,000 times trigger

WiFi

Radio Frequency band

2.4GHz (2.412 GHz to 2.484 GHz)2.4GHz

Standard

IEEE 802.11 b/g/n

Bandwidth

HT20 and HT40

Wifi 802.11gn

1T1R

Security Protocols

WPS, WPA, WPA2, WAPI, WEP, TKIP

Antenna

Dipole ,

Environment

Operating Temperature

-20°C ~ +80°C

Operating Humidity

20 ~ 80%

Dimension

Product

95 x 60 x 25 mm (exclude antenna)

Certificate

China

CMIIT(TBD)

Canada

IC

USA

FCC

Japan

Telec

Brazil

ANATEL(TBD)

Taiwan

NCC

Europe

EN 300 328 v1.9.1

Europe

CE

Other EMI Certifications

(by contact Bointec Sales)
Datasheet
File Name
Type
Updated
Download
01.bointec_BICS_light_control_system_ENG_160617

PDF

2016-06-16
01.bointec_BICS燈控系統_CHT_160617

PDF

2016-06-16
02.bointec_BICS_SalesGuide_ENG_CONFIDENCIAL_160611

PDF

2016-06-12
02.bointec_BICS教戰守則_CHT_不可外流_160611

PDF

2016-06-12
03.bointec_BICS_Q&A_ENG_CONFIDENCIAL_160611

PDF

2016-06-12
03.bointec_BICS答客問_CHT_不可外流_160611

PDF

2016-06-12
BOINTEC_converter_HC818K1K2K3中文簡介

PDF

2016-11-15
紅色的文字
Certifications

Europe

RoHS